Interactive Seminar in the Republic of KOREA (ROK) on Augmentation of Power and Energy sphere of SRI LANKA
About page
Writer

운영자

Date

20-12-18 16:55

Hit

999
Main text
The Embassy of Sri Lanka in Seoul in close coordination with the Embassy of the Republic of Korea (ROK) in Colombo, UNIDO-ITPO (Investment & Technology Promotion Office) in Seoul, Federation of Chamber of Commerce and Industry of Sri Lanka (FCCISL) and Sri Lanka Sustainable Energy Authority conducted a two-hour webinar followed by a comprehensive and fruitful Business-to-Business (B2B) Session last week. The highly focused and structured digital webinar was sponsored by the Daily FT of Sri Lanka, Colombo Chamber of Commerce, INGINE and the Training Hub of Asia and was moderated by Mr. Tharindu Amarasekera, Editor of Business and Economics. The primary objectives of the interactive seminar were to profile and project opportunities and vistas in the power and energy sector of Sri Lanka to Korean corporate leaders and companies, expound the benefits and utility of engaging in the realm of power and energy in Sri Lanka and to arrange and connect the corporates of Sri Lanka and the RoK in the sphere of power and energy to commit investments and forge business partnerships, thus mutually benefitting both the countries.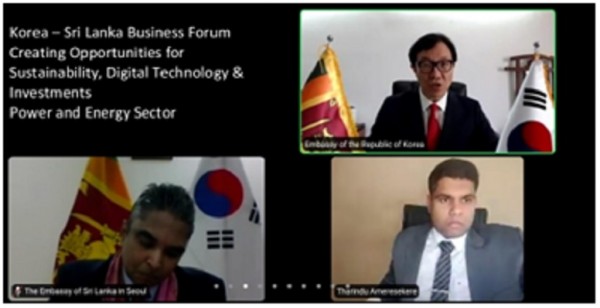 Webinar with Ambassador Santhush Jeong Woonjin of the RoK, Amb. Dr. Saj Mendis and Moderator Mr. Tharindu Amarasekera during the session

The Moderator, Mr. Amarasekera, introduced the panelists and experts in the field of power and energy and Ambassador of the RoK, Santhush Jeong Woonjin, addressed the digital seminar on the aforementioned theme. In the address of Ambassador Woonjin, he stated that Sri Lanka has a very stable Government and economy, which are two of the vital factors for any potential investor to consider and to engage in commercial and business arrangements be it investments, transfer of digital technology or renewable energy in any given nation. In this context, Ambassador Woonjin impressed and urged the Korean corporates to seize the opportunities and vistas created in the sphere of energy and power in Sri Lanka. He also accentuated that Sri Lanka is well poised and positioned to be a developed economy in the foreseeable future and this would be the most propitious time to enter Sri Lanka.
Similar sentiments were articulated by Ambassador of Sri Lanka, Dr. A. Saj U. Mendis, who added that the global COVID-19 pandemic has unfolded a number of new vistas with regard to investments, development of mega infrastructural projects, public private partnerships and generation of power and energy, amongst others. He also added that energy or power sector is often described as one of the key strategic lubricants of economic evolution of any given nation and Sri Lanka is most eager to engage with the corporates in the RoK. Dr. Mendis concluded his brief remarks by stating to the Korean investors and corporates that Sri Lanka, similar to entering an equity/stock market when the market is about to rise and become a "bull market", the economy and particularly power and energy sector of Sri Lanka, at this juncture, can be compared to an equity market which is about to rise and is the most befitting time to enter Sri Lanka. He earnestly urged and entreated the potential investors to look at Sri Lanka favorably and positively, after assessing and weighing the seminal and critical attributes of Sri Lanka, as a future "fulcrum of investments on Power and Energy".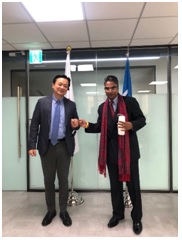 Ambassador Hyundong Cho welcoming Dr. Saj Mendis, when the delegation of the Embassy of Sri Lanka visited UNIDO-ITPO in Seoul, during which Amb. Cho discussed the forthcoming seminar/webinar and took the delegation on a familiarization and interactive tour
A comprehensive address was delivered by Ambassador Hyundong Cho, Head of UNIDO-ITPO of Korea and former Deputy Minister of Ministry of Foreign Affairs and former Ambassador for Public Diplomacy of the RoK delineated and outlined the significant functionaries of the UNIDO-ITPO and the manner in which the UNIDO-ITPO could assist and facilitate Sri Lanka in the sphere of power and energy. Amb. Cho elaborated and expanded in detail the criticality of technology, innovation and investments in navigating the future development of any given country, thus attaining the status of a developed nation. In this context, Ambassador Cho underlined and enunciated how the RoK had become a developed nation within a space of few decades.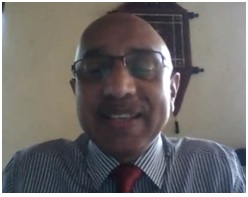 Mr. Keerthi Gunawardane, Senior Vice President of FCCISL addressing the Korea-Sri Lanka Business Forum on Power and Energy Sector
Mr. Keethi Gunawardena, Senior Vice President of FCCISL, in his address, stated the role of FCCISL and how the FCCISL could promote, project and profile power and energy sector of Sri Lanka to the potential investors and corporates in the RoK. Both Mr. Gunawardena and Dr. Asanka Rodrigo, Director General of Sri Lanka Sustainable Energy Authority, emphasized the seminal nature of power and energy for the economic and commercial expansion of Sri Lanka since Sri Lanka is now a middle-income nation. This sphere would play an instrumental role in elevating Sri Lanka from a middle-income nation to a rapidly developing higher-income nation in the foreseeable future. Dr. Rodrigo made an expansive presentation along the theme of creation of opportunities for sustainability and digital technology including renewable energy. Mr. Myung Sub Roh of Kosen Co. Ltd. of Korea and Dr. Farida Bondarenko, a Consultant on Trade and Renewable Energy projects, also made dedicated and informative presentations, thus enabling the large select audience to comprehend the factual as well as optimistic situation of power and energy in Sri Lanka for the corporates of the RoK to commit investments and to engage.  After the formal session, a number of companies and investors both from Sri Lanka and the RoK conducted B2B sessions in virtual conference rooms, thus enabling them to connect and match with each other enabling to translate the B2B discussions to tangible power and energy projects in Sri Lanka, in the near future. 
15th December 2020
Seoul,
Republic of Korea