Sri Lanka at the Lotus Lantern Festival in Korea
About page
Writer

운영자

Date

19-05-16 10:44

Hit

646
Main text
Sri Lanka at the Lotus Lantern Festival in Korea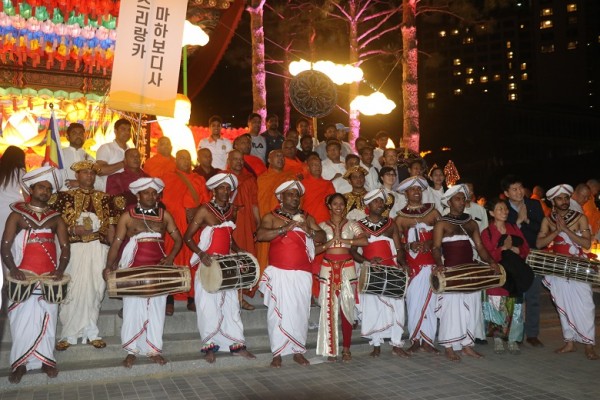 The Embassy of Sri Lanka in the Republic of Korea participated in the Sri Lanka Parade in the annual Lotus Lantern Festival in Seoul on 04 May 2019 which was organized to celebrate the birth day of the Lord Buddha. The Lotus Lantern Festival held in the central Seoul is a majestic parade with the participation of Korean Buddhist monks and devotees who carry decorated lanterns.  The Parade was organized by the Yeondeunghoe Preservation Committee of Korea.
The Lotus Lantern Festival has a long tradition of more than 1,200 years which is designated as the National Intangible Cultural Property by the Korean Government.  Among the Korean festivals, the Lotus Lantern Festival has the highest participation including diplomats, expatriates and tourists in the Republic of Korea.
The Sri Lanka parade was organised by the Maha Bodhi Vihara in the Republic of Korea under the patronage of the Most Venerable Welahinne Vachissara Thero, with the support of the Sri Lanka Embassy under the leadership of Counsellor (Employment and Welfare) Jagath Batugedara and the Sri Lankan community in the Republic of Korea which included Sri Lankan Buddhist monks, Sri Lankan employees and members of the Sri Lanka Students' Association.
The Sri Lankan parade was included a nicely decorated large lantern with a replica of the Thripitaka in order to highlight the Sri Lanka's proposal to recognize the Thripitaka as a world heritage, as well as Vesak lanterns which showed the Sri Lankan Buddhist tradition, and Buddhist flags.  Around 75 Sri Lankans participated in the parade this year.
Chargé d' Affaires of the Embassy of Sri Lanka in the Republic of Korea Jagath Abeywarna attended the festival as a special guest.
Embassy of Sri Lanka
Seoul, Republic of Korea
16 May 2019